Blogs are a fantastic way to connect with your audience and build your brand...but where do you start? Here's my simple seven step guide to getting writing.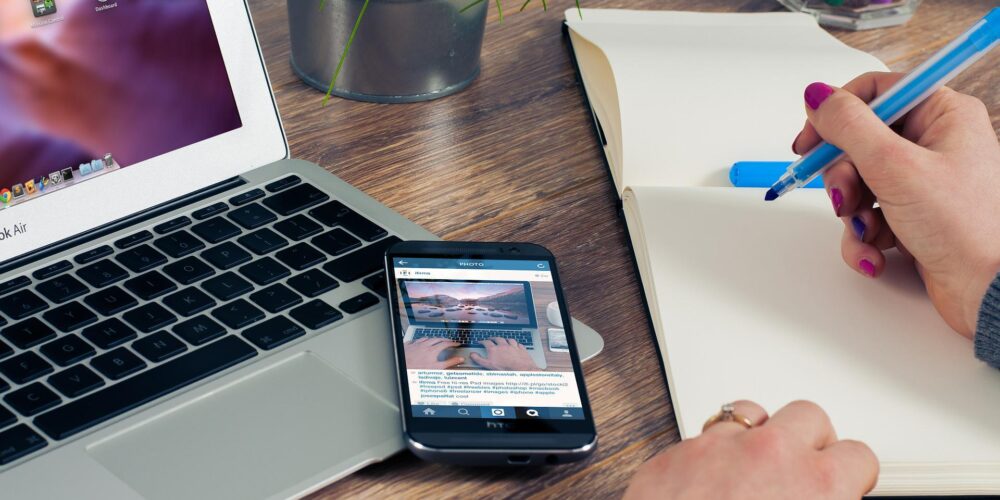 It's no secret that fresh, unique content is a winner for your website and social media. Not only will your followers engage with you more frequently, building up a great trust for your brand, but it's also a massive hit with Google's algorithms.
But what if blog writing – or any kind of writing – is out of your comfort zone? Firstly, don't panic if you're not a pro. In the 21st century, you don't need a degree in the finer nuances of the English language to get your message out there. Secondly, my 7-step blog writing guide for beginners is designed to take the worry out of writing.
Enjoy!
Step one: Decide why you are writing
People often skip over this step and jump straight to the 'what'. But before you choose your topic, understand that is not simply a question of what you want to share with your readers so much as why you wish to share it.
Knowing the purpose for your writing before you set proverbial pen to paper is half the battle. Are you looking to share tips and ideas? If so – to what end? To become the authoritative voice in your niche? To build followers? To accrue likes? To get bookings for your bell tent venture? To get people to click the link and buy your product?
Step 2: Choose a topic
Once you know your purpose in writing, this will inform the topic you need to write about. What resonates with your audience? If you want people to book your holiday let, what information do they need to know? The fully equipped kitchen is a bonus, but what about the sunset views from the garden…or the village folk festival held every July?
Do you know what topics people are searching for? Use a keyword research tool to generate ideas.
Step 3: Snappy headers
Ask 10 students what the purpose of headlines is, most likely they will give you the same answer: 'to make you read on'. Whilst a teacher might screw their eyes up in despair at that answer, it's basically true. A reader can be won or lost based on your choice of header. Your blog title is the key to the entire piece.
The function of a header is a little more refined than Joe Bloggs GCSE student's response. Let's break down the function of what a successful title must achieve:
Capture the reader's attention
The internet is a polluted sea of nonsense information – your header has to be interesting and novel enough to stop your reader from scrolling.
Tease the reader
Making them pause is one thing, but your header must provide enough detail to lure your reader into opening the article as a whole.
Inform the reader
The best headlines deliver powerful information, with the succinct speed of an Oscar's slap. They should be clear in their message.
Emotional resonance
Your headline (and article) need to relate to your target audience. Personal pronouns are useful in letting the reader know you are addressing them specifically (that's right – you).
All this said, a sure-fire way to turn off a regular reader or subscriber is to not fulfil on a promise. The article behind the headline needs to live up to the preview – don't insult your audience with clickbait, or you may lose them.
Step 4: Hone your voice
Your writing has to represent your voice, so it's important to pick the correct tone. The mode of your writing must resonate with your audience and be authentic to your brand.
If you're promoting tips on fitness and your target audience is 19-year-old males, consider the header: '8 banging workouts to get you shredded for summer'. This same casual vernacular might not work as effectively for promoting yoga stretches for expectant mothers.
Step 5: Simple structure
Your topic is chosen, your header nailed and your voice perfected. Now it's time to write the blog.
Keep It Simple.
The same rule applies for the main body as it did for the header: easy to digest information, chunked down. Think short paragraphs and simple sentences.
Step 6: Proofreading
Often, people don't enjoy revisiting their writing; however, proofreading is an important part of the process you shouldn't dismiss.
Reread your blog, paying attention to adverbs. Can they be trimmed out and replaced with a single, powerful verb? Look out for connectives like 'and' and 'because' – they tend to feature in longer sentences that can probably be broken up into two sentences.
Step 7: Images and emojis
No matter how awesome your blog is – the fact remains that our eyes will always hone in on certain key areas:
Headlines
Pictures
Introductions
Conclusions
It's up to you to make these four features count. Choose images and even memes that will help to condense the key message of your article. And always leave the reader on the most important point of all.
For help with your blog writing – don't hesitate to give me a call!
(Rhymes help too…)